Invasion of the Movement Snatchers We should be concerned that today's animal movement so closely resembles the vision of moral compromise, division and debilitation put forth by an industry PR consultant.

...more

---

---

---

Magical Thinking or Historical Reality? The only thing standing in the way of the animal rights movement becoming a great social justice revolution is a poverty of imagination and a shortfall of personal conviction. It is up to all of us to transcend the cynicism of these times, and to reach for something higher.

...more

---

---

---

Toward Justice for Animals Helping animals now and in the future does not require collaborating with the animal exploiting industry, promoting "humane" animal products, or otherwise trading away the foundations of long-term change. There are far better ways that we can be confident will help, and not hurt.

...more

---

---

---

Compassion for Sale? In a time not so long from now, practicing compassion will for many come to mean buying and eating "happy meat," a purported win-win-win for the animals, the industry and its customers...

...more

---

---

---

Truthiness is Stranger than Fiction Many leaders in today's animal movement are supporting and even helping develop animal product labeling schemes and "animal compassionate" husbandry standards...

...more

---

---

---

Project for the New American Carnivore What does it mean when a major animal protection conference features a multi-million dollar rancher, a pig farmer, a turkey farmer, and others known for talking of compassion and animal welfare while at the same time profiting from their unapologetic killing of animals?

...more

---

---

---

Meatopia on the March When the news broke that HSUS CEO Wayne Pacelle would be seeking a seat on the board of Tyson Foods, one of the largest slaughterers of animals in the world, many thought it was a spoof put out by The Onion.

...more

---

---

---

Justice for Animals, Respect for Advocates When the animal-welfare industrial complex attempted to co-opt the national animal rights conference (AR 2012), a group of long-time activist were compelled to intervene.

...more

---

---

---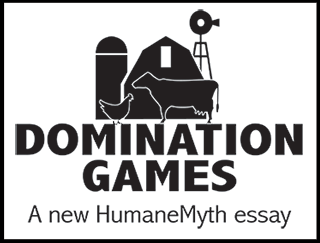 Advanced Advocacy Practices

---
Use Language Mindfully
Develop Critical Thinking Skills
Resist Objectification
Expose conflicts of interest
Cultivate humility
Recognize Counterspin
Protect Online Dialog from Manipulation
The Humane Declaration
Toward Justice for Animals
Essays and Talks
---
Against All Odds
Compassion for Sale?
Hogwash! Or, How Animal Advocates Enable Corporate Spin
Books
---
Toxic Sludge is Good for You
The Sociopath Next Door
Moral Courage
Doing democracy
Losing Ground
Organizations
---
The Center for Media and Democracy: Sourcewatch

"A principle is a principle, and in no case can it be watered down because of our incapacity to live it in practice. We have to strive to achieve it, and the striving should be conscious, deliberate and hard."
-- Gandhi

"You have much more power when you are working for the right thing, rather than against the wrong thing. And of course if the right thing is established, wrong things will fade away of their own accord. Grassroots peace work is vitally important. All who work for peace belong to a special peace fellowship, whether we work together or apart."
-- Peace Pilgrim