What is conflict of interest, and why is it a problem?
When a person is responsible for serving the interests of two or more parties, and these interests are in conflict with one another, the person is said to be engaged in a conflict of interest.
Conflict of interest is often discussed in professional fields such as law, where it is understood that a judge, for example, shouldn't preside over a case involving one of her own relatives, or a company in which she is an investor.
Similarly, social justice advocates must be particularly sensitive to conflict of interest issues, which can compromise a non-profit organization's mission, confuse activists, and erode public trust. Thus, even the appearance of conflict of interest can be problematic, and should be avoided.

Rise of the Animal Welfare Industrial Complex

2005 17 Animal Organizations endorse Whole Foods' Animal Compassionate Standards.


2005 Farm Sanctuary co-founder Gene Baur and PETA Director of Vegan Campaigns Bruce Friedrich participate in development of Whole Foods' "Animal Compassionate Standards" for the use and killing of animals.
2005 Whole Foods receives PETA "Proggy" award as "best animal-friendly retailer".

2005 Humane Society of the United States (HSUS) CEO Wayne Pacelle and HSUS Farm Animal Program Director Paul Shapiro (also co-founder of Compassion Over Killing) privately meet with egg industry operators to collaborate on launch of "cage-free" egg initiative.

2005 Whole Foods CEO John Mackey featured as keynote speaker at animal conference and introduced as a vegan by Farm Sanctuary co-founder Gene Baur.

2005 VegNews magazine names John Mackey Corporate Executive of the Year.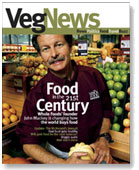 2006 Major media coverage, including article in New York Times, cements Whole Foods' reputation as an "animal compassionate" meat retailer with a "vegan" CEO, and the role of animal advocacy organizations in promoting "humane" labeling schemes.

2006 HSUS's affiliate, Humane Society International, announces "Humane Choice" program, offering products from animals who "basically live their lives as they would have done on Old McDonald's farm."

2007 Taking Action for Animals Conference features three animal farmers as speakers, including rancher Nicolette Hahn Niman. Major sponsors of conference include HSUS, Farm Sanctuary and Whole Foods.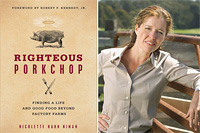 2007

HSUS and Farm Sanctuary lead formation of advocacy-industry Prop. 2 legislative coalition "Californians for Humane Farms" with Niman Ranch among industry partners.



2007

HSUS and Farm Sanctuary partner with restaurateur Wolfgang Puck to promote new standards for the use and killing of animals.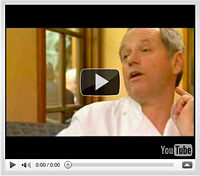 2007

Farm Forward is founded, with board members including Whole Foods CEO John Mackey, turkey farmer Frank Reese, and PETA Vice President Bruce Friedrich.



2008

Eggology announces HSUS endorsement of their egg products. HSUS denies endorsement despite numerous confirming documents.

2008 Restaurateur Wolfgang Puck named guest of honor at HSUS Genesis Awards.

2009 Whole Foods CEO John Mackey appointed to HSUS Board of Directors.

2009 Wayne Pacelle joins the board of Whole Foods' Global Animal Partnership.

2009 Former HSUS Vice President (and co-founder of Compassion Over Killing) Miyun Park assumes leadership of Whole Foods' Global Animal Partnership.

2010 HSUS and Farm Sanctuary lead legislative coalition Ohioans for Humane Farms, which includes animal-exploiting corporations such as the Great American Lamb company.

2010 HSUS promotes fundraising event at which meat is served from the very animals the organization claims to be advocating for.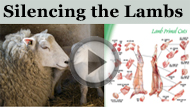 Fundraising for the Animals by Serving Them for Dinner
2011 Bruce Friedrich leaves PETA to join the staff of Farm Sanctuary as Senior Director for Strategic Initiatives.

2011 Whole Foods' Global Animal Partnership announces 5-Step Animal Welfare Rating Standards for the use and killing of animals, and releases promotional video featuring Miyun Park as a spokesperson.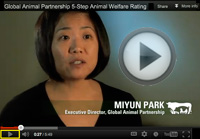 At the time of the announcement, HSUS, PETA, Compassion in World Farming and the World Society for the Protection of Animals are represented on the GAP Board of Directors.

2011 HSUS appoints pig farmer Joe Maxwell to staff position of "Director of Rural Development and Outreach," with goal of expanding market for "humane" meat.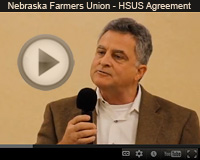 2011

Whole Foods listed as sponsor, and its CEO John Mackey featured as speaker, at Farm Sanctuary's conference on eliminating "factory farming".


2012 HSUS partners with the United Egg Producers to promote passage of the controversial Egg Products Inspection Act, referred to by many animal advocates as the "Rotten Egg Bill."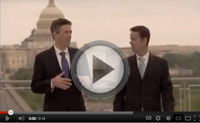 2012

ASPCA gives $151,000 grant for turkey farm expansion, with funding process facilitated by Farm Forward, of which Bruce Friedrich, Farm Sanctuary VP, is a founding board member.



2012

HSUS VP Paul Shapiro, key player in orchestrating advocacy-industry collaboration, speaks at national animal rights conference (AR 2012) on "the future of animal rights." FARM, host of AR 2012, pressures conference hotel to shut down Justice for Animals, Respect for Advocates seminar, which had been organized to provide an alternative viewpoint.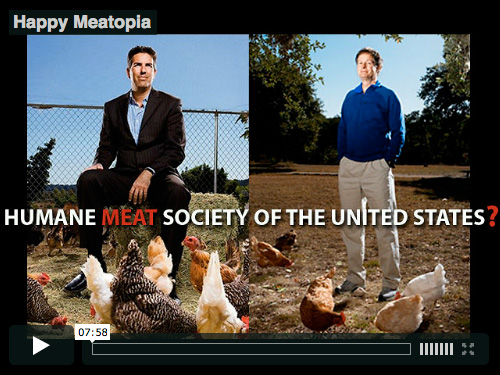 In the time since this essay was published, allegations have appeared in the media of sexual misconduct on the part of several institutional animal advocacy leadership figures, including Wayne Pacelle, former CEO of the Humane Society of the United States. These developments inspired the new Humane Myth essay, "Domination Games: Coming to terms with a culture of power abuse in the institutional animal advocacy movement." The video above and accompanying investigative report below explore the grotesque results of Mr. Pacelle's alliance with Whole Foods Market's CEO John Mackey, which ushered in the meat industry's successful co-option of much of the US institutional animal advocacy movement.
Happy Meatopia
How conflict of interest and industry collaboration
are damaging animal advocacy

By James LaVeck and Jenny Stein
September 25, 2012

In today's corporatized animal protection movement, engagement in extreme conflicts of interest has become the accepted norm. For example, the Humane Society of the United States (HSUS) publicly claims to be an "animal protection" organization, yet since 2009, it has included on its board of directors John Mackey, CEO of Whole Foods, one of the largest meat retailers in the US.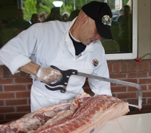 For a Fortune 500 CEO to sit on the board of a major charitable organization whose programs materially affect the business interests of his profit-making corporation, in our opinion, violates multiple principles of non-profit governance. It's hard to imagine how a person in Mr. Mackey's position is able to fulfill his obligations to both entities without compromising the interests of one or both.
Mr. Mackey is responsible for the exploitation and killing of millions of animals each year, activities unavoidably at odds with animal protection. When Mr. Mackey participates in the governance of HSUS through his role on its board of directors, it is impossible to know whether or not his motivation to advance or protect the interests of Whole Foods corporation is affecting decisions he makes on behalf of HSUS.


Humane Society, or Humane Meat Society?
In what we believe to be a parallel conflict of interest, HSUS's CEO Wayne Pacelle joins Mr. Mackey on the board of the Global Animal Partnership (GAP), an entity that develops and promotes standards for the "humane" use and killing of animals. GAP's current standards, titled the 5-Step Animal Welfare Rating System™, are being used by a growing number of animal farmers in order to supply a "value-added" product for Whole Foods. The GAP program is heavily promoted as a means of reassuring customers that the meat/dairy/eggs they buy at Whole Foods came from animals who were used and killed "humanely." Based on messages put out by GAP, consumers are even led to believe that the animals lived happy lives.
In our opinion, Mr. Pacelle's participation as a board member of GAP constitutes an extreme conflict of interest. How can he fulfill HSUS's commitment to work for the protection of animals while working with other members of the GAP board to develop and promote new methods for using and killing those same animals?


Keeping family secrets safely in the closet
Imagine what might happen if investigative video footage were to emerge that vividly documents the violent deaths endured by animals who came from GAP-approved farms. Or even footage that reveals GAP-accepted practices that still involve the torture and suffering of animals whose flesh, bodily fluids and eggs are sold under GAP's "humane" banner. Will Mr. Pacelle distribute such footage as widely as possible in the media to further HSUS's animal protection mission? Or will he be tempted to ignore or even suppress distribution of such footage, in order to protect GAP's reputation, and by extension, the reputations of both HSUS and Whole Foods?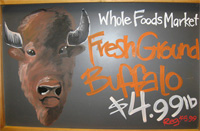 And what about Mr. Mackey? As an HSUS board member, will he approve the distribution of footage that will undermine his interests as a GAP board member? And more importantly, will he allow footage to be released that almost certainly will cost his Whole Foods shareholders money? Whole Foods greatly benefits from its public image as the most "animal-friendly" meat retailer, an image HSUS has directly contributed to creating since 2005.
In 2011, GAP executive director Miyun Park (formerly a VP at HSUS) reported that 1500 farms were participating in GAP. Given HSUS's enmeshment with GAP and John Mackey's enmeshment with HSUS, it would seem highly unlikely that Whole Foods, or any of the farms supplying animal products to them through GAP, would be candidates for investigation and exposure by HSUS, or by any of the many advocacy organizations under HSUS's influence or direct control.
This is just one example of how engagement in extreme conflicts of interest cripples the ability of advocacy organizations to fulfill their stated missions.

Protecting animals while profiting from their deaths?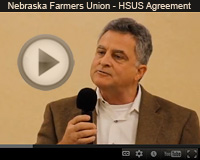 In 2011, HSUS created a new position of Director for Rural Development and Outreach for a man named Joe Maxwell. Mr. Maxwell currently belongs to a collective of "humane" farmers responsible for the death of approximately 900-1100 pigs each week. On his farm's web page, Mr. Maxwell claims that his philosophy is to "raise hogs like you do children." In a speech to fellow farmers, he publicly admitted that his pig exploitation business would not be viable without the GAP certification program that his employer, HSUS, helped create.
When Mr. Maxwell makes presentations promoting GAP, he is serving the interests of his own animal exploitation operation, which depends on Whole Foods buying pig flesh from him at a premium price, and also on a growing public demand for "humane" animal products. With Mr. Maxwell and his partners personally profiting from the killing of a thousand pigs each and every week, how can he credibly serve HSUS's mission to protect animals?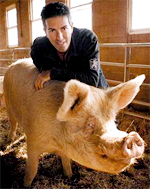 Turning members into customers, and customers into members
It has become increasingly clear that HSUS brought a pig farmer on staff to help fulfill a larger vision. While this vision is arguably at odds with the organization's stated mission of protecting animals, its potential to increase HSUS's donor base by appealing to animal-loving meat eaters is a matter that is openly discussed. Last month, an article on Globegazette.com titled "Humane Society President Visits Dream Prairie," reported:
Pacelle said the HSUS has more than 11 million members and constituents and is collaborating with the Nebraska Farmers Union. The goal is to develop markets and grow the HSUS membership. "We're connecting their farmers to our consumers, and trying to figure out ways to build that bridge," he said. [Emphasis added]

Happy Meatopia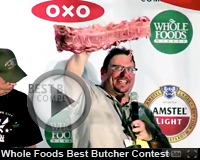 For its part in this market-building collaboration, Whole Foods sponsors and promotes special events like Meatopia, an unabashed celebration of animal consumption that prides itself on offering grotesque spectacles of indulgence (e.g.: "stuffing a duck inside a chicken inside a turkey"). Whole Foods' Best Butcher Contest, referred to by Meatopia's founder as the "crown jewel" of this event, is heavily promoted by Whole Foods (see its press page and promotional video) and garners significant media attention.
In 2011, GAP's executive director, Miyun Park, took the stage at Meatopia with evident enthusiasm, praising the large audience for braving the summer heat to "support" butchers from Whole Foods competing for a trophy. Before her role at GAP, Ms. Park was a VP at HSUS, and before that, co-founder and president of the animal advocacy group Compassion Over Killing. Video footage of the Best Butcher Contest at Meatopia underscores how powerfully this event serves to promote the consumption of an ever more exotic array of meat-based foods. It glorifies the butchery of animals, and now, with the seal of approval of a well-known former animal activist like Ms. Park, promotes the idea that even the most orgiastic consumption of animal flesh carries no moral weight, as long as those involved publicly state that all the individuals who were killed for the event were treated "humanely."
Words and images on the Meatopia web site capture the culture of doublespeak and disconnect that results when advocacy organizations engage in extreme conflicts of interest, collaborate with the animal-exploiting industry, and actively promote consumption of the "right kind" of animal products. Among other things, the Meatopia Manifesto states:
Meatopia Uses Meat Our Guests Can Feel Good About

Every piece of meat at Meatopia is certified cruelty-free, hormone-free, and antibiotic-free. We celebrate meat eating of every kind, but with the crucial caveat that the meat have lived well, been fed right, and died in a humane, respectful way. We love meat, but we love animals too. [Emphasis added]

Preventing cruelty by funding exploitation?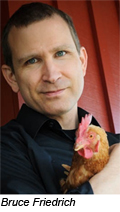 Bruce Friedrich is a senior executive of Farm Sanctuary, a non-profit advocacy organization that offers refuge to many animals formerly exploited on farms. Farm Sanctuary claims to support vegan principles and to reject the legitimacy of "humane" farming. Yet, Mr. Friedrich (along with Whole Foods CEO John Mackey) is also a founding board member of Farm Forward, a non-profit entity involved in developing and promoting "humane" methods of using and killing animals.
In the spring of 2012, Farm Forward facilitated a $151,000 grant from the American Society for the Prevention of Cruelty to Animals (ASPCA) to turkey farmer Frank Reese for the purpose of expanding his farm, which raises and kills thousands of turkeys each year. (In what appears to be yet another conflict of interest, Mr. Reese is also a Farm Forward board member.)
How can a senior staff member of an organization that is committed to rescuing farmed animals from exploitation and slaughter, and that publicly states there is no such thing as "humane" farming, ethically participate in funding a "humane" operation that exploits and slaughters thousands of these animals each year?
Such profound contradictions contribute to cynicism, confusion and a loss of public trust.

Animal protection + Animal profit = A fatal conflict of interest
We live in a complex world, in which it is possible for those working for social change to find themselves playing two or more distinct roles which entail duties and obligations that come into occasional conflict. There are ethical approaches to managing incidental conflicts of interest, such as asking board members to recuse themselves from decisions that may affect their personal interests, or publishing and abiding by effective conflict of interest policies.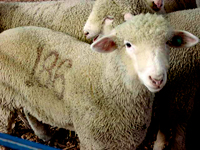 However, the conflicts of interest plaguing the realm of animal advocacy today are not incidental. They are so central -- so outrageous, and so unnecessary -- that there is no convincing justification for them. It is not possible to devise an administrative policy that can even begin to "manage" the crippling problems they cause. There is no way to make these types of situations right except by removing people from positions which they cannot hold without compromising their own ethics, and the involved organizations' effectiveness.
Charitable organizations are supported by donations for a reason, so that they may serve their mission free from the influence of market forces -- influences that so often lead to trading ethics and public integrity for competitive advantage and cash flow. By partnering with people whose businesses profit from the use and killing of the very beings they claim to advocate for, corporatized animal protection organizations disrespect the intelligence and violate the intent of the very people whose donations and volunteer efforts make their work possible.

Too big to fail?
Increasingly, large animal advocacy groups and leadership figures are urging activists to blindly trust their words and deeds, despite mounting evidence of core values being traded away. Have these wealthy organizations become, like the Wall Street power brokers who wrecked our economy in recent years, "too big to fail"? Can they simply say and do anything, no matter how outrageous, without accountability or consequences?
The entanglement of these corporatized groups with industry has all but destroyed their ability to credibly challenge the paradigm that normalizes the use and killing of animals in our society. In fact, many of their programs now so severely commingle the language and imagery of advocacy with the process of exploitation that even long-time animal activists are becoming confused about what is, and what isn't, a "step in the right direction."
Here is one way to clear up such confusion. Listen carefully to the disturbingly catchy theme song for Whole Foods' Meatopia promo:
"There is a place where I'd like to be, where fatty pork chops cushion your feet... and we'll all join hands."
When songs celebrating the domination and consumption of those we seek to protect are becoming louder in our ears with every step we take, it is probably a sign that our movement made a wrong turn somewhere along the way. Indeed, it almost certainly means we are heading in the wrong direction -- that our activism is now in danger of strengthening the very ideas and institutions that perpetuate the injustice we seek to overcome.

We can work for justice without working for industry
In 2005, the level of industry-advocacy collaboration dramatically escalated when 17 animal protection organizations made the decision to endorse Whole Foods' new "animal compassionate" standards for the use and killing of animals. This caused an uproar in the animal advocacy community. Yet with every escalation that has happened since, there has been less and less protest by animal activists, greater and greater disillusionment, and increasing moral confusion.

A handful of people running large organizations have arbitrarily redefined core principles and are attempting to forcibly conjoin two polar opposites: animal exploitation and animal protection. They are now creating elaborate PR campaigns that present "humane" animal exploiters as being on the leading edge of animal advocacy. At the same time, they are publicly and privately marginalizing advocates for justice by characterizing them as divisive troublemakers who "don't get it." As a result, more and more people are losing the ability to tell the difference between authentic animal advocacy and cynical marketing hype concocted for the purpose of selling "humane" animal products.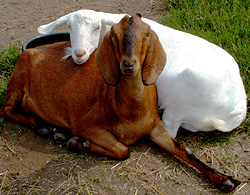 This methodical co-option of the vegan and animal rights movements (see timeline at left) would not be possible without advocacy insiders taking part in the sellout, and without many activists who know that it is wrong choosing to remain silent. This is a painful truth, but facing it is the first step to reclaiming our values and rebuilding our community.
The means we use to pursue our goals determine the character of what we achieve. If what we want to achieve is justice for animals, refusing to collaborate with those who are using and killing animals is not optional. It is as basic and logical as refusing to participate in the exploitation ourselves -- the very foundation for everything that follows. Let us not undermine that foundation. Instead, let us make it stronger, and dedicate ourselves to building a truly inspiring movement for justice.

Anyone who has the power to make you believe absurdities has the power to make you commit injustices. --Voltaire
---
More essays, articles and videos on this subject can be found here.
---
Filmmakers James LaVeck and Jenny Stein are the founders of Tribe of Heart and creators of the award-winning documentaries The Witness and Peaceable Kingdom: The Journey Home. For the last two decases their work has focused on the emerging new ethics of the human-animal relationship and the journey of awakening conscience.
Acknowledgements
Many thanks for the talent and dedication of our editorial team: Trevor DeSane, Eric Huang, Kevin Smith, Leslie Armstrong, Susan Clay, Pam Page, Kate Sharadin and Monica Towle.
NOTE: The original version of this video essay and special report (posted 9/25/12) indicated that Whole Foods is the 2nd largest meat retailer in the US. Questions have arisen about Whole Foods' exact rank among the largest meat retailers, so as of 9/26/12 the video and the report now simply state that Whole Foods is one of the largest meat retailers in the US.
Copyright © 2018 HumaneMyth.org. All rights reserved.