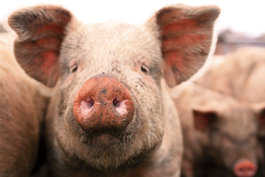 They're what's for Dinner: Free-range pigs at Jim Dunlap's TLC Ranch
Back in Rack
It isn't yet politically correct to eat meat, but it is a lot less politically incorrect. The back-to-the-pasture movement is letting carnivores feel good about themselves again.
It goes without saying that the growing mythology of "humane" animal products conveniently solves the industry's worst public relations problems, and at the same time, encourages the public to purchase a new and more profitable line of products.
Source:
METRO-ACTIVE by Christina Waters Mar 2008 3/19/2008
Click here for direct link to source
VEGAN, locavore, vegetarian, omnivore—politics makes strange dining partners of us all. And now, in ways unforeseeable just a decade ago, politics is helping to create a new renaissance in, of all things, meat-eating.
Not for any single, or simple, reason. Perhaps it hasn't yet become politically correct to eat meat, but it has become a lot less politically incorrect. And for that we can thank pioneers like Bill Niman...
...
A dish of succulent braised pork with chanterelles created by Ristorante Avanti chef Ben Sims from Dunlop's free-roaming, organic pigs gave me a glimpse of what's at issue. The meat was robust and slightly sweet, the texture sturdy and supple. The chef was inspired. The menu acknowledged the pork's provenance. Visitors can visit the ranch, see the pigs, ask questions and be as convinced as I was when I toured the ranch that these animals lived large and rooted around to their hearts' content. Maybe this is part of why meat is back on the menu.
A quick rewind might help set the table. About 10,000 years ago, when agriculture sprang up across the globe, gregarious animals found that they could survive better in the company of humans. The grain grown on small family farms became feed for domesticated cows, chickens, donkeys, goats, sheep, camels and pigs. A classic win/win situation that helped put milk, cheese and—yes—meat on the table.
...
Soon, even with the mechanization of husbandry (i.e., factory farming) made possible by the 19th century industrial boom, fewer people could afford the end product. Meat became a special occasion food—and most of the week, the working classes ate grains, breads and legumes. That "chicken in every pot" usually showed up only on Sundays. And sometimes only for the rich.
After World War II, First World lifestyles and incomes supported and encouraged the consumption of meats. Inexpensive ground beef and roasts became everyday fare for the middle and upper-middle classes. And with those came high cholesterol, diabetes and obesity. Synergized by the publication of the animal welfare manifesto Animal Liberation by Peter Singer, in the 1970s the back-to-the-land movement joined forces with warnings about animal fats and heart health, and suddenly the word "vegetarian" was on everyone's lips. Avoiding meat became not only fashionable, it flattered the budgets of those without trust funds.
Mad, Bad and Dangerous to Gnaw
Restaurants added meat-free entrees to their menus. Natural foods stores refused to carry any meat or fish or poultry. Books for vegans looking for ways to pump flavor and nutrition into their diet did brisk sales. Just as vegetarians reached philosophical palate fatigue, new medical research came out with the astonishing news that eggs were not bad for us, that lean meats might not lead to heart attacks and that carbohydrates like bread and potatoes were in fact the evil empire.
Call it coincidence, but just as the discovery of mad cow disease and the unsavory details of factory farming and stockyard practices came to light, organic farmers began raising chickens not only for eggs, but also for their meat. Looking to the free-pastured practices of Niman Ranch—not to mention the profitability of chops, steaks and roasts bearing the Niman brand—ranchers began putting pigs on their pastures, letting them roam and forage freely before taking them down to the road to be slaughtered, and then selling the all-natural, artisan-butchered cuts at farmers markets and small local restaurants. For top dollar.
...
So given the increasing availability of small-farm-pastured, sustainably produced meat,
are former vegetarians turning into omnivores?

"For sure," says farmer Dunlop, himself a vegetarian for a dozen years. "I was in the same boat when I was in school, and did homework on factory farms and saw the suffering, the incredible stress that these animals undergo," he recalls. "But I started eating meat again once I began raising my pigs."
Chef Sims doesn't keep statistics, but he does have the kind of anecdotal evidence that confirms Dunlop's hunch. "Once I started putting Niman Ranch, humanely raised meat on our menu a year ago," says Sims, "two friends of mine, both vegetarians for over 17 years, started eating meat again at our restaurant."
And for the CEO of Niman Ranch, the numbers support a resurgence of thoughtful meat-eating.
"Our company grew 26 percent last year," Swain notes. "And not just in the Bay Area."