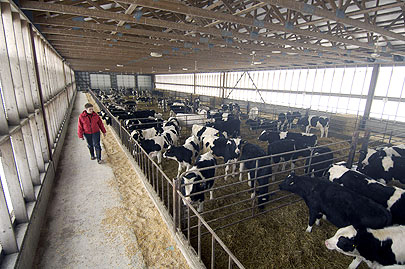 The Star photo caption: At Judy Dirksen's veal farm, the Holsteins (and Holstein crosses) are raised in group pens in a bright and modern barn, and sorted according to age and weight.KEITH BEATY/TORONTO STAR
The real deal about veal
The Ontario Veal Association president opens her barn for a tour, encouraging butchers, supermarkets, chefs and consumers to learn more about this lean red meat
If, as a society, we become comfortable acknowledging the individuality and consciousness of other animals at the same time that we savor the succulence of their flesh, are we not participating in a willful act of disconnection, damaging our own capacity for empathy and emotional integration?
Source:
TheSTAR.com by Jennifer Bain Apr 2007 4/4/2007
Click here for direct link to source
"There's still some bad publicity out there," acknowledges veal farmer and association president Judy Dirksen. "But hey, they're not raised in the dark,
they're not sad little waifs
, they're not even little."
Seventy per cent of our veal calves are grain-fed and produce dark pink meat that's tender and mildly beefy. The other 30 per cent is milk-fed, producing meat that's ivory to light pink, tender, subtle-tasting and more expensive.
Traditionally, it was the Italians, French and other Europeans driving our veal market. Now upscale restaurants are experimenting with veal, and curious home cooks are trying out this leaner red meat.
"If you're looking to add a fresh, locally grown protein to your diet, Ontario veal should be on your grocery list," advises association executive director Jennifer Haley.
The association - which represents about 450 veal farms, mainly family operated - has been beefing up its website, educating butchers, convincing supermarkets to carry more veal cuts (which are the same as beef) and even putting on a six-course veal luncheon for the media.
It reports that Ontario veal has a farm-gate value of $110 million and an economic impact of $450 million. Yet many of us are clueless about veal production. So Dirksen offers a tour of her grain-fed veal farm here, west of Elora.
Let's start with the real basics. Cows are either raised for the dairy or beef industry. In "dairying," heifers (girls) are coveted and bulls (boys) don't have much use. They used to be destroyed at birth but now most are sold to veal producers when they're eight to 10 days old.
...
We chat among the calves - Holsteins or Holstein crosses - in the Dirskens' "finishing barn." It's a conventional barn with an insulated ceiling and lots of natural light. When it gets hot, the sides slide up and down (meeting in the middle) to boost air flow. The calves are grouped by age and size. Pens are 545 square feet and hold about 15 animals.
...
The calves are calm but curious, swivelling to watch us as we walk by. "Holsteins are very inquisitive," reports Dirksen. "If a Holstein doesn't have a look when you walk by, you might suspect it's sick."
She's excited by what she sees as "endless opportunities" for veal - a lean meat that comes in smaller portions than beef. But Dirksen knows there's much to be done in the education department.
Who knows whether U.S. chef/Food Network star Anthony Bourdain had ever toured a veal farm when he wrote this in a recipe-packed veal chapter in 2004's Les Halles Cookbook: "It's not nice what they do to calves to make that pale, tender, and attractive meat we so love. But if I tasted that good after being locked up and immobilized in a dark shed, I wouldn't blame anyone for trying."